Sport England's Director of Sport Phil Smith and Director of Communications Ali Donnelly joined
the Angling Trust's Jamie Cook and Martin Salter as guests of Godalming Angling Society at
Marsh Farm for their first ever fishing trip.
Marsh Farm is home to specimen tench and crucians as well as being a thriving match and day
ticket fishery. It was one of the first fisheries in the country to benefit from Sport England investment
and its success is testament to the dedication and hard work of the club's committee and volunteers.
Sport England work with the Angling Trust to maintain active lifestyles through sport and are acutely
aware of the benefits to physical health and mental wellbeing angling delivers.
As skilled sporting enthusiasts in their own right, Ali and Phil hit the ground running and with the
support of Godalming's skilled Level 2 coaches they managed six different species and even
encountered the crucian carp which have made the fishery famous. Not a bad start on a chilly day
with falling water temperatures!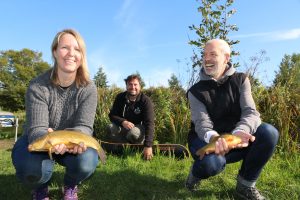 Ali Donnelly and Phil Smith with Jamie Cook in background